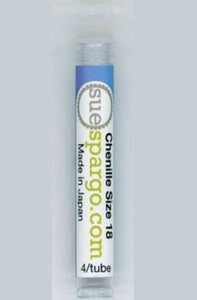 sue spargo
Sue Spargo CHENILLE #18 NEEDLES
Regular price
$7.00
$0.00
Size: 18 Sue's new Gold Eye Chenille #18 is an essential needle when stitching with Sue Spargos #5 and #3 perle threads. (Eleganzas).
Perfect for all embroidery stitches except the knotted stitches.  Use milliners for these. 
Its gold eye allows for easier threading, and its ultra-sharp point pierces through multiple layers of wool with ease. As with her entire collection, these needles are made in Japan and are double polished for exceptional performance. 
long oval eye, 4 per tube.
---
More from this collection