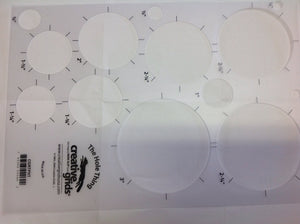 Pinkpossum quilting
The Hole Thing - circle template by Creative Grids
Regular price
$15.00
$0.00
 Use The Hole thing to trace perfect circles every time in sizes ranging from quarter inch to 3 inch.
Eight tick marks around each circle aid and placement. Made from heavy template plastic that will not slip.  
The Hole thing helps create perfect circles for berries, flower centres, yo-yos, button covers etc. 
---
More from this collection